SKY SIGNS 2018 AS THE FULFILLMENT OF SKY SIGNS 2015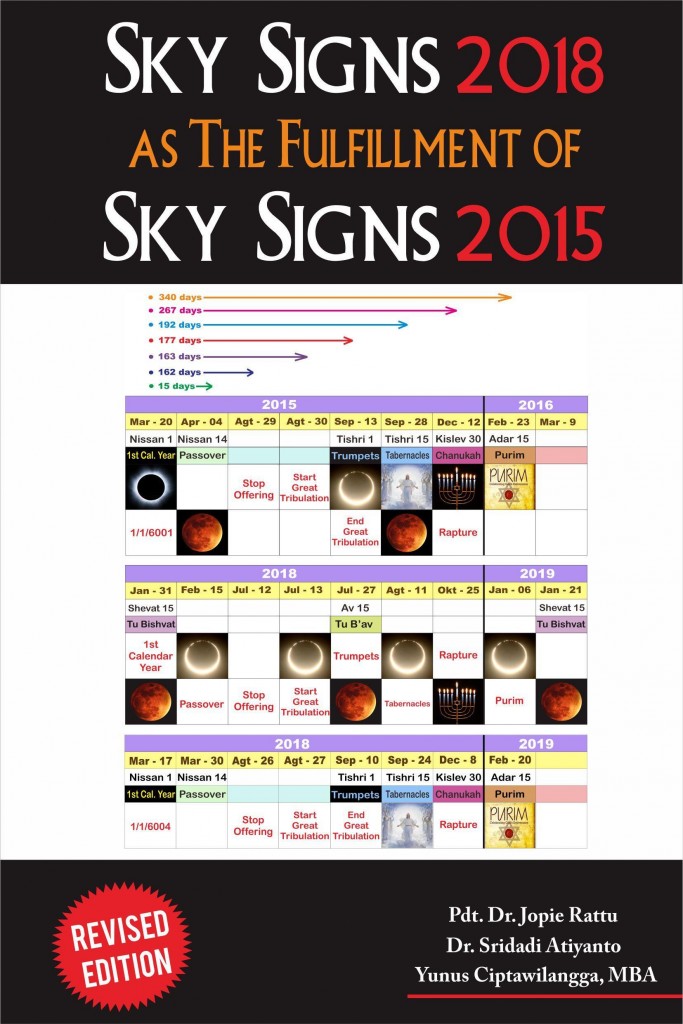 SKY SIGNS 2018 AS THE FULFILLMENT OF
SKY SIGNS 2015
Several years lately many servants of God have made interpretations of the end times, including the three of us (Rev.Jopie Rattu,Ph.D., Mr.Sridadi Atiyanto,Ph.D., and Yunus Ciptawilangga,MBA. We also wrote books on the end times, as well as interpretations and commentaries on it.
The interpretations which say that today we are in the end times, among others, are marked by the legalization of a law of health insurance known as "Obamacare" on March 23, 2010. The official name of Obamacare is "The Patient Protector and Affordable Care Act" or better known as "Health Care Bill HR3200″. Obamacare is linked with the end of time, because the law requires each participant to have a chip implanted in her/his body. For more details you can read our book "Is Chip the Fulfillment of 666?"
The subject about the end times heightened when Pastor Mark Biltz found out the phenomenon of the moon became blood red, which later was called the bloodmoon, and was believed to be one of the signs of the end times. Moreover when it was later discovered that the bloodmoon in the year 2014-2015 occurred four times and all four took place during the Israelite festivals, which was at the Feast of Passover and the Feast of Tabernacles in 2014, and also in the year 2015, at the Feast of Passover and the Feast of Tabernacles. On further studies and observations it turned out that there occurred not only 4 bloodmoons or tetrad bloodmoon, but also 2 solar eclipses, namely a total solar eclipse on the Israelite New Year and another one at the Feast of Trumpets.